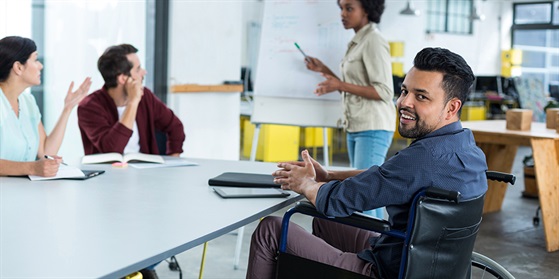 Questions and answers
The person concerned does not have to inform the employer of his serious disability. If, however, a termination occurs, he must do so within three weeks of receipt of the letter of termination. Otherwise the special protection lapses.
What is important, however, is that according to the new case law of the Federal Labour Court, the employer may not ask for a severe disability during the job interview. But if the employment relationship exists six months he may ask. If you then do not answer correctly, you can no longer invoke the special protection against dismissal at a later date.
- Are severely disabled people entitled to more holidays?
Severely disabled persons are entitled to five additional days of holiday or rest per year. Of course, this only applies if the employer is aware of the disability. This is based on a 5-day week.
For public and private employers with at least 20 jobs, the following applies: They must employ severely disabled people in at least 5% of the workplaces (§71 Paragraph 1 SGB IX).
An employer must obtain the consent of the Integration Office (formerly the Main Welfare Office) before dismissing a disabled person. The office can, for example, finance the adaptation of the workplace to the needs of the disabled or the provision of work assistance in whole or in part. In this way, dismissal can be averted. For example, the office can pay for a lifting aid if a diabetic can no longer lift heavy weights.
Only severely disabled people can retire before their 63rd birthday. Those who were born in 1953 can already receive the "severely disabled pension" at the age of 60 and seven months - but have to accept a pension reduction of 10.8 percent. At the age of 63 and seven months, the pension is then paid without deductions.
It would be discriminatory to ask an applicant for a job for a disability. In addition, the prohibition of the question is intended to prevent discrimination. However, if a person with a disability is unable to carry out the work because of this, the conclusion of an employment contract is a kind of deception. Since, however, a recognised disabled person is entitled to special protection, e.g. in the event of dismissal, the question of a serious disability may be raised after 6 months with the company.
Checklist
Document
Helpful Links
Advert
Addresses