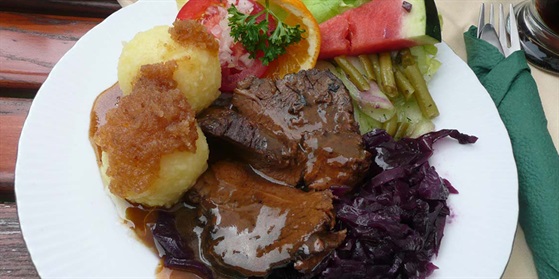 Saxony is also known for its traditional, very good and rich cuisine.
By today's standards, Saxon cuisine would be described as very hearty, as sauces, meat or side dishes, for example, make up an important part. Many of the typical roast dishes or sausage specialities, soups and desserts have a long history and vary from place to place. Among the famous dishes are Sauerbraten (sour roast), Knödel (dumplings) or Dresdner Stollen (Dresden Stollen pastries).
Just as traditional as the dishes of Saxon cuisine is the beer served with it, as the brewery in Saxony also looks back on a very long tradition. There is one of the first Pils breweries in Saxony, which is now known worldwide. There are also many small local breweries that brew their beer according to their own very special recipes.
In these gastronomical enterprises one finds also often with the personnel typical Saxon clothes from that time, the so-called traditional costumes. Thus one feels there - since the catering trade is to be found often in historical buildings, breweries or cellar vaults - a little like in a former time shifted.